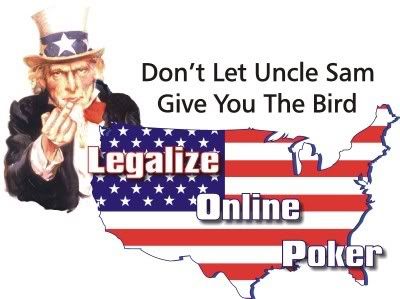 Last week Wachovia Bank customers received a small hand note in their October statements. The hand note stated:
You acknowledge and agree that "restricted transactions" as defined in the Unlawful Internet Gambling Enforcement Act of 2006 and Regulation GG issued there under are prohibited from being processed through your Account or any relationship between you and the Bank. In the event we identify a suspected transaction, we may block or otherwise prevent or prohibit such transaction and further we may close the Account or end the relationship.

If you play online poker and were not aware that your methods of depositing and withdrawing money from your online accounts is in jeopardy, You Should Be. December 1st, 2009 is the deadline for Banks to come into full compliance with the UIGEA of 2006. The PPA is working relentlessly yet maybe futilely with a petition that will delay compliance for a year.

The Following was filed 8/21/09
Source quotes from Poker News writer Mathew Kredell

Notes sent out by banks in August serve as a warning about the overblocking that could be coming in December when the penalties established by the Unlawful Internet Gambling Enforcement Act go into effect in the United States.
California Bank & Trust sent out a similar note stating that it "will not process transactions derived from Internet bets or wagers."
The problem is that banks will have every right to overblock to make sure they comply with the UIGEA.
The following was filled 10/12/09
Source quotes from Poker News writer Mathew Kredell
With the date of compliance for the Unlawful Internet Gambling Enforcement Act less than two months away and legislation to push back enforcement failing to make progress in Congress, the Poker Players Alliance is trying a new method to delay the deadline.
The PPA filed a petition with U.S. Treasury Secretary Timothy Geithner asking for the date of compliance, which is Dec. 1, to be extended one year under the Administrative Procedure Act. This may seem like a desperate move -- and it is the time to get desperate -- but the PPA recruited powerful allies to make a strong push that should at least get Geithner's attention.